There are no particles of sound. It doesn't enter our ears in the way that photons enter our eyeballs. Rather than possessing physicality,
sound
is merely an impression we get from our surroundings. When we "hear" a sound having some pitch and volume, air molecules are vibrating against our ear drums with oscillations of a certain frequency and amplitude.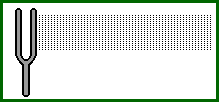 The vibrations originate from an object in rapid motion - like a bee's wing or a violin string. The moving object knocks air molecules outward away from it. These collide with others farther away, which collide with others even farther out, and so on. The initial outward push gets carried away from its source by a domino effect of molecular collisions.
When molecules hit your ear drum it registers just how hard they hit, and your brain interprets this as the
volume
of the incoming sound. Your ear drum also registers the frequency of the molecular impacts, which your brain interprets as
pitch
.
To really
see
that sound comes from air molecules sloshing back and forth, watch this short video. A loud sound is blasted from the speaker toward a wine glass. Air molecules oscillate with enormous amplitude, pushing periodically against the glass like ocean waves against a cliffside. Under the stress of the impacts, the glass breaks.